Posted By Bryan Mattock
We have introduced Pramac's 800kg capacity Lifting Table (our Model Number LT80) to our range, to offer customers a high Capacity, high quality, Mobile Scissor Lift Table, from this well know Italian brand, fames for its Pramac moto GP racing team.
The LT80 Mobile scissor lift table with it's foot-operated hydraulic pump are the ideal tools for a variety of lifting and loading operations and for use as "work station" to provide improved ergonomic conditions together with improved productivity. It represents the best solution for the manual load handling, combining functioning, cost saving, safety and health of operator during work.
The LT80 has a 1000mm lift height and two fixed and two braked swivel castors for safety and mobility.
IMPORTANT NOTE: As with all Material Handling Equipment we would always recommend that all organisations have their own Health & Safety Risk Assessment conducted, prior to use.
Posted By Lewis Trigg
STAINLESS STEEL
In some environments, the products for material handling have to fulfil specific requirements. This could be environments with strict hygiene requirements or clean rooms.
The Stainless Steel products we supply are developed for environments where severe hygiene is needed on the surfaces that are in direct contact with the goods being handled, e.g. meat, fish or medicine.
High quality is ensured through an extended test programme and in cooperation with experts in Health & Safety.
Our STAINLESS STEEL MOBILE SCISSOR LIFT TABLE, in the LTSS RANGE are suitable for a variety of lifting and loading operations and ideal for pharmaceutical, food and beverages industries. | | | | |
| --- | --- | --- | --- |
| Model | BSL10SS | BSL20SS | BSL50SS |
| Capacity | 100kg | 200kg | 500kg |
| Platform Size (L x W) | 700 x 450 mm | 830 x 500 mm | 1010 x 520 mm |
| Closed Height | 265 mm | 310 mm | 430 mm |
| Raised Height | 790 mm | 925 mm | 1010 mm |
| Handle Height | 1000 mm | 1075 mm | 1090 mm |
| Wheels Diameter | ø 100 mm | ø 125 mm | ø 150 mm |
| Approx. Weight | 41kg | 78kg | 118kg |
If you work in an environment where cleanliness and/or hygiene is vitally important and wish to discuss this further, please do give us a call on 0800 038 9858.
Posted By Bryan Mattock
Selecting the right Mobile Scissor lift table for you Application
Customers often ask us for guidance on which Mobile Scissor Lift Table will be right for them, and the majority of applications that we come across, can be meet by one of our 3 most popular scissor lift tables (see below):
NB15 - MANUAL 150KG SCISSOR LIFT TABLE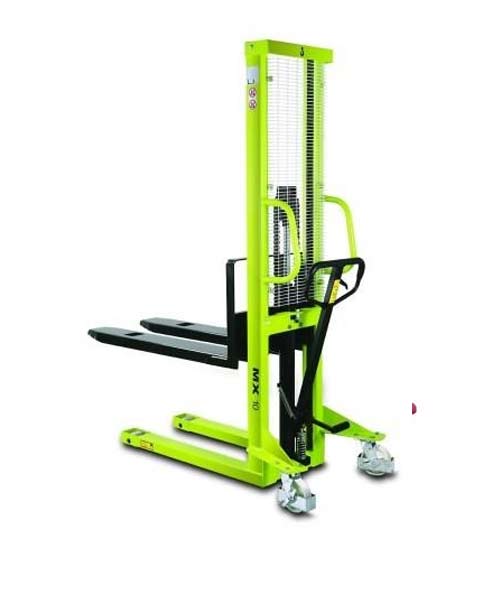 NB300MAN - MANUAL MOBILE LIFT TABLE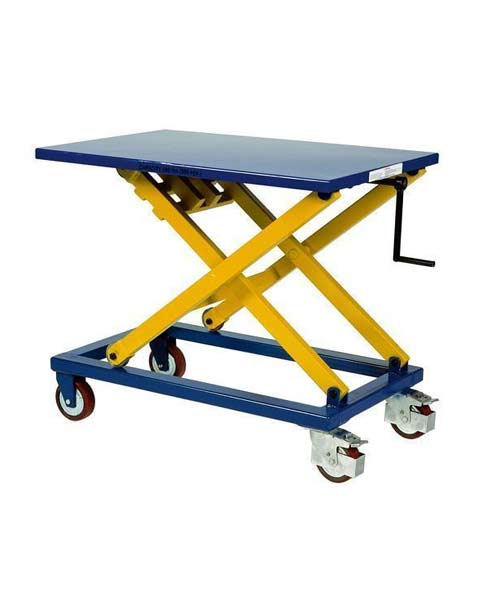 NB350D - MANUAL 350KG DOUBLE SCISSOR LIFT TABLE Which one of these three tables is right for you, is of course based on what you need form the Lift table; with this in mind there are four main factors you need to consider:
Lifting capacity – what is the most weight you want the table to lift at any one time?
NB: It is important to note that these capacities are based on an evenly distributed load.
The NB15 has a 150kg capacity; the NB300MAN 300kg and the NB350D, as you probable have guessed is 350kg in capacity.
The required lift height – the NB15 has a raised height of 720mm; the NB300MAN – 1000mm, and the NB350D – 1300mm.
Table Size - this needs to be both large enough to securely handle your load and small enough to manoeuvre in the space that you require the lift table to operate in.
The NB15 has a table size of 700mm x 450mm; the NB300MAN 950x600mm; and the NB350D 910x500mm.
Lowered/Closed Height of the Lift table – this must be low enough for it to accommodate the lowest height that you are loading or unloading heavy items from; especially important if you need to move heavy loads from the ground itself onto the table.
The lowered heights for our 3 most popular tables are thus: 220mm for the NB15; 450mm for the NB300MAN, and 355mm for the NB350D.
As a general rule of thumb; though not always the case: capacity; Lift height, table size and lowered height all tend to rise together, from the Lift Table Manufacturers perspective it would be reasonable to assume that heavier goods will be larger, thus requiring a bigger table size, and as the table size increase so does the length of the scissor legs below them, which in turn give higher lift heights, and lowered heights.
So when considering the ideal table for you application, it is worth bearing this in mind, to maintain practical realism. For example a lift table with a very small table size but very high lift height, would have to have so many sets of scissor legs that it would look like a concertina, and stability may become an issue. Plus an abundance of scissor legs means that the lowered height, may not be particularly low.
If you would like to see more details on these tables or to see our entire range include electric lift table and even Static tables as opposed to the mobile lift tables discussed here.
Entire Range
Electric Tables
Static Tables
IMPORTANT NOTE: As with all Material Handling Equipment we would always recommend that all organisations have their own Health & Safety Risk Assessment conducted, prior to use.
Posted By Lewis Trigg
We have been an approved UK distributor for SILVERSTONE products for a number of years now, and when it comes to SILVERSTONE, the quality really does show...
The SILVERSTONE range comprises of Mobile Tables, Electric Lifting Tables and Static Electric Tables. Below I have selected some of the best-selling models from each category in the range:
MANUAL STAINLESS STEEL LIFT TABLE - SX-175 This stainless steel mobile screw lift table is very easy to operate and move. The single scissor is operated manually by a handle, can be used on both sides!
ELECTRIC HIGH LIFT MOBILE LIFT TABLE - ES30D Electric high lift mobile lift table is a battery electric powered double lift table. This beautifully engineered table takes all the effort out of pumping where repeated lifting is required such as in production areas or conveyor loading etc. Large safety clearance between the scissors to avoid injuries. Lift cylinder with internal drainage. Safety valve to ensure safety in case of a hose burst. Low-noise power pack with built-in overload valve.
If you need to discuss more about the options available, give us a call on 0800 038 9858.
Posted By Bryan Mattock
The humble Lift Table – the Automotive Workshop, Workhorse.
Over many successful years of trading we have supplied our Lift Tables to an abundance of organisations in the business of Automotive production, repair, performance, and Motorsport including several Formula 1, Formula 3 and Formula 4 Race Teams.
The reasons for this are simple:
1. They get their job done with ease.
2. Represent great value for money.
3. Are easy to use, and inexpensive to maintain.
4. They do not require an operator's licence, (although familiarisation with the product is recommended before use).
5. We have various options available including Manual, powered, mobile lift Tables and Static Lift Tables, and as an optional extra some of these can have table top attachments like Roller Bed and Ball Transfer tops.
6. Robustness and reliability through simple design (even the powered versions have relatively few parts – so less that can go wrong).
7. Compact design – generally speaking Scissor lift Tables have the smallest necessary foot print required to get the job of raising and lowering goods, from low to mid-levels done.
Amongst our Lift Tables Ranges the Mobile ones have proven most popular with our customers in the Automotive industry, as they enable staff to have the flexibility to work in different areas with easy, and minimal set up – they can literally move locations within operating areas and take their work with them.
And in 1st place among all of our Lift Tables, the one most popular one with Automotive and Motorsport customer is the NB300MAN. The NB300MAN is a Manual Mobile Scissor Lift Table which raises and lowers via the turning of a central screw, as opposed to a hydraulic pump, the two main benefits of this are that:
- It eliminates "Hydraulic creepage" where over long periods of time as pressure in the pump can reduce, hydraulic lift tables can lower.

- Changes in the height of the table top can be changed more minutely so that Automotive Engineers can get the table/worktop to "just the right height".
A key point to remember when using mobile scissor lift tables is to ensure that they are on level ground with an evenly distributed load, and that when moving them you do so with caution - Remember your lift table is a workhorse not a "Prancing Horse".
If you need a tried and tested, precision lift table/ work station in your workshop, then give us a call on: FREEPHONE: 0800 038 9858

IMPORTANT NOTE: As with all Material Handling Equipment we would always recommend that all organisations have their own Health & Safety Risk Assessment conducted, prior to use.
Posted By Lewis Trigg
SPARTAN
Our SPARTAN range of Mobile Tables. Whatever your industry, when you need to lift to a height with a heavy weight, SPARTAN is the way forward.
The range has a variety of capacities and sizes available ranging from 125KG right up to a massive 1250KG. Manufactured right here in the UK, you can ensure a quality, tough product which can do the job at hand without any problems. Made with heavy duty steel and 2 fixed (braked), 2 swivel castors with wheel foot protectors, the SPARTAN range of Mobile Table can be used in a number of environments and for different applications including mobile work stations to moving and lifting goods. A great feature of this model is its flexibility to be easily adapted to meet your requirements with additional modifications to completely bespoke.
SPARTAN HEAVY DUTY MOBILE TABLES
The models availalve within this range can be seen below:
| Model | Capacity (KG) | Platform Size (MM) | Lift Height (MM) |
| --- | --- | --- | --- |
| LTBD-SC-200-S-M-JCB | 200 | 485 X 700 | 255 - 745 |
| LT-BD-SC-300-S-M-JCB | 300 | 520 X 852 | 305 - 850 |
| LT-BD-SC-500-S-M-JCB | 500 | 610 X 920 | 350 - 935 |
| LT-BD-SC-800-S-M-JCB | 800 | 610 X 920 | 345 - 922 |
| LT-BD-SC-350-D-M-JCB | 350 | 610 X 920 | 442 X 1610 |
| LTSC-150-S-M | 150 | 450 X 760 | 255 - 780 |
| LTSC-150-S-M-ALU | 150 | 450 X 760 | 255 - 780 |
| LTSC-300-S-M | 300 | 500 X 840 | 335 - 840 |
| LTSC-500-S-M | 500 | 610 X 1030 | 340 - 900 |
| LTSC-125-D-M | 125 | 500 X 840 | 430 - 1420 |
| LTSC-300-D-M | 300 | 590 X 840 | 295 - 1350 |
| LTSC-450-D-M | 450 | 610 X 1030 | 295 - 1550 |
| LTSC-800-S-M | 800 | 840 X 1350 | 360 - 1050 |
| LTSC-1000-S-M | 1000 | 1000 X 2000 | 360 - 1050 |
| LTSC-1250-S-M | 1250 | 840 X 1350 | 360 - 1050 |
| LTSC-500-D-M | 500 | 840 X 1350 | 490 - 1900 |
| LTSC-800-D-M | 800 | 840 X 1350 | 490 - 1900 |
| LTSC-500-T-M | 500 | 840 X 1350 | 650 - 2900 |
Whatever your industry, when you need to lift to a height with a heavy weight get in touch and talk to us 0800 038 9858.
Posted By Bryan Mattock
"For the want of a Heel Pin"
The Humble Heel Pin, is a simple, inexpensive item that serves a vital purpose – it can keep your forklift attachments like Forklift Access Platforms (also Forklift Mounted Jibs and Hooks) in place so that the Attachment, Forklift and most importantly their users are safer, furthermore it enables your business is to operate correctly; so that you can continue to keep your own customers happy. To paraphrase Benjamin Frankin:
For the want of a Heel Pin the Access Platform was lost,
For the want of an Access Platform the Vital Maintenance was lost,
For the want of Vital Maintenance the Warehouse was lost,
For the want of the Warehouse the Customer's Order was lost,
For the want of the Customer's Order the Customer was lost,
And all for the want of an Access Platform Heel Pin. So when you buy a Forklift Access Platform; you may want to tick the box to add a spare Pin Kit to your order, because you never know when someone will lose one of the original Heels Pins that come with your Access Platform.
Posted By Lewis Trigg
ACCESS PLATFORM
In this post, we're turning our attention to our Forklift Truck Access Platform. Keep reading for more details about them, including their functionality and features:
WHAT ARE THEY USED FOR?
Our Forklift Truck Access Platforms provide a safe environment where non-routine maintenance and a wide range of inspections can be carried out from. Forklifts are primarily used to lift materials, not people, but using them with working platforms enables people to work safely at height.
HOW DO THEY MEET INDUSTRY REQUIREMENTS?
All of our platforms are manufactured in line with the Health and Safety Executive's latest guidance on non-integrated forklift truck working platforms.
Find out more about our CFAP model right HERE - https://www.lifttable.co.uk/forklift-cage/forklift-cage-with-easy-access.html
We have a greater range of Forklift Access Platforms available from our sister site, Liftruck UK - https://www.liftruck.co.uk/shop/forklift-access-platforms.html
If you have any questions regarding this item, or just need some advice, give us a call on 0800 038 9858.
Posted By Bryan Mattock
NB350D 350kg Double Scissor Lift Table – Not only lifts boxes, it ticks them too. This is because it is a well-priced, High Quality product, which has a strong 350kg Capacity, and a lift height of 1300mm, meaning that goods can be raised to a height that is comfortable for most operators to work from. Despite its high capacity is only weighs 105kg and has rear swivel Castors as standard meaning that it is easy to manoeuvre.
It features a Table size of 910mm x 500mm, that customers often tell us is just right as it's a good size but not too big for their working space, in fact it offers a great balance of all the key benefits that a manual Lift Table buying could be looking for.
Customer satisfaction with this product is extremely high, so if you are in the market for a reliable, well-rounded Scissor Lift Table then the NB350D is an outstanding selection.
Posted By Lewis Trigg
THE LARGE PLATFORM TABLE!
We have recently added a Mobile Table with LARGE platform to our range! The ERGO2035 LARGE PLATFORM SCISSOR LIFT TABLE has a massive 2035 X 750MM platform and can lift a hefty 1000KG to 1400MM. That's right, a LARGE platform that has a HUGE capacity and can lift to a WHOPPING 1.4 metres making this item ideal for working with large items at height. If you have any questions about this "larger than life" Table, give us a call today on 0800 038 9858.